Dear Family,
On April 9, 2016, we had our first community event at the Lakewood Community Center.   The event was fun. I was able to see many people that I haven't seen in quite some time. I mean sure I keep up with them through social media (who doesn't?) but there's a distinct difference between staying up to date with someone online and actually being in their presence. I can feel their vibe when I'm looking them in the eye, shaking their hand, or giving them a hug. Some of the homies even brought their babies to the event. The family atmosphere was definitely in full effect.
It was a canned food and clothing drive. We were able to raise 308 pounds of cans and clothes that we donated to FISH Food Banks of Pierce County. Sure, this event wasn't going to resolve world hunger, stop government corruption, or eradicate poverty but overall it will provide food and clothes to people in need. It's a step in the right direction albeit a small one but a step nonetheless. Before we can even consider resolving these larger societal issues, we must start as small as possible and build up to that. Every avalanche begins with a single snowflake.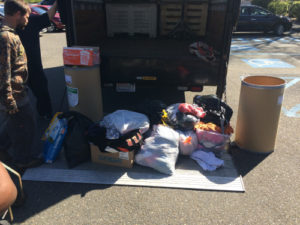 We had about 40 people take time out of their busy schedule to attend the event. This is an accomplishment in itself. I was lowkey nervous if we would be able to even pull that off. We sent the facebook invite to over 500 people but with as hectic as life gets, clicking going on the event page isn't always the best confirmation on whether or not someone will actually attend. I know personally I've been in that situation where I confirm that I'm attending something and then all of a sudden life happens and I'm unable to make it. Then follows the text message of bad news where my thumb is always reluctant to press send. I always contemplate if I should provide the detailed explanation of, "well I wanted to go but then my mom called me and needed me to go to the bank, so I can help pay the water bill and then I need to pick up my friend from the airport and I thought I was going to have enough time to drop them off at their house but they left their key inside, so they need to wait for their roommate to get off of work and we don't know when that will happen and so I won't be able to make it." Usually succinctness wins over and I cryptically say, "hey fam. I won't be able to make it tonight, some family stuff came up." So with all of that in mind, bringing as many people as we did was dope. Check out the photos! Shout out to Jen for taking them.
I gave a talk at the event too. That was a cool experience. I've been a public speaker for over 8 years now and this was my first time actually giving a speech in Lakewood. I've traveled all throughout the west coast but not once have I spoken to our city like that. My talked covered a variety of topics but essentially the overall message was:
1. Communicating unity is how we build community through both our words and action.
2. Talking about wanting to make a difference and taking action to make a difference are two different things.
3. The mainstream media, our (mis)education system, and the fear of one another has created and perpetuated divisions amongst many people. And as a result we remain conquered. Therefore we must think for ourselves, educate ourselves, and over come this fear of each other in order to truly experience our humanity.
In all honesty, I didn't think my speech was my greatest display of oratory I've ever delivered but the gem I was able to extract from it was the realization that I no longer need to depend on some outside organization, conference, or group to reach out and invite me to speak at their event. I can just do it myself. It's a different energy then. Instead of waiting for someone to give me the opportunity, I'm taking the initiative to make the opportunity myself. That's empowerment.
However, I'd be remiss if I failed to mention, that I didn't do this all by myself, I was part of a  great team and we were able to put together this event. It was quite rewarding to have set a goal with them and see it to its fruition. We took it from the realm of ideas and made it into reality. It was a powerful display of what is possible when a group of people come together, make a plan, and then take all of the required steps in converting it into action.
All and all, we learned a lot from the experience. From here we can only grow and improve as a team as well as a community. One thing in particular is that 25 Costco pizzas sounds like a good idea but in reality may have been a bit much when those boxes are staring at you in the face.
If you want to learn more about the movement, we'll be having our first general meeting this Sunday, April 17th, starting at 6:30pm at the Lakewood Library.
We're setting into motion a movement to make history. It's scary but exhilarating at the same time. I'm glad you're able to be part of it.
Peace and Love,
John
P.S. Tione really held me down with the early morning haircut.